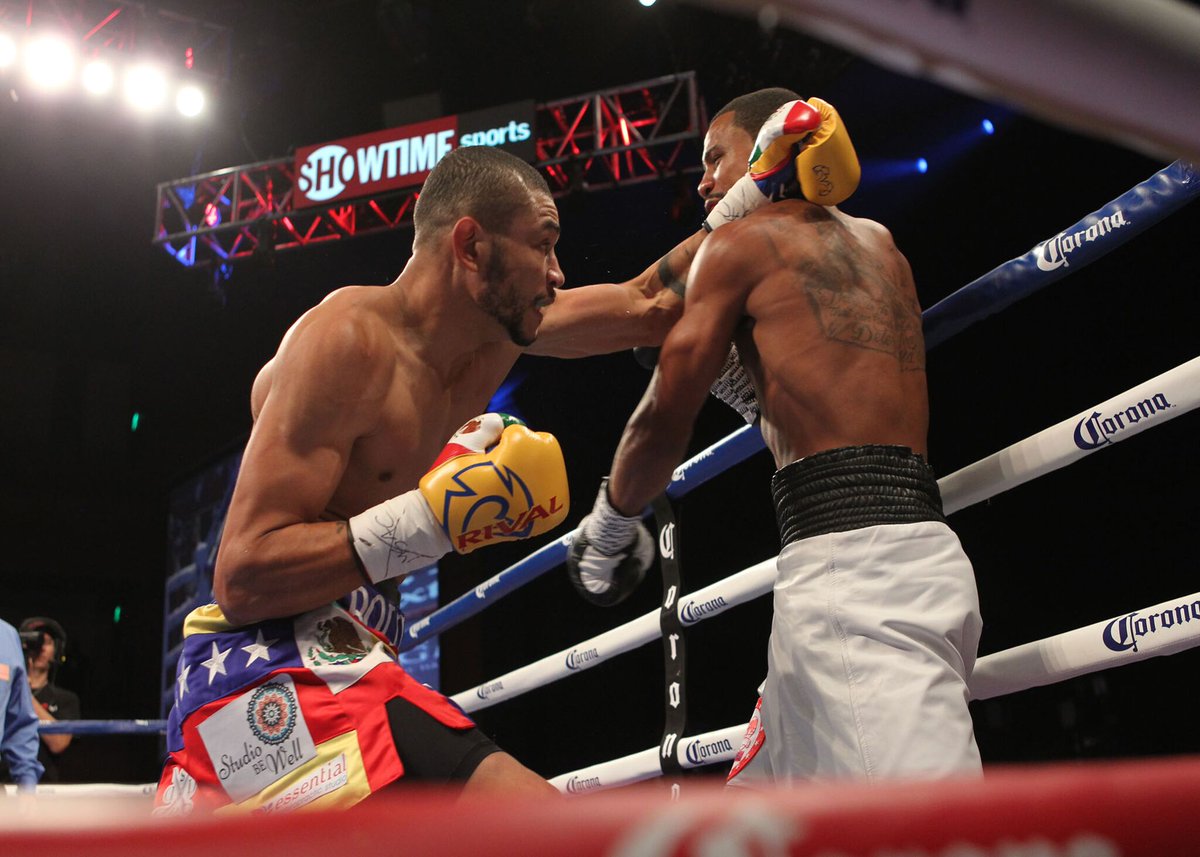 On Saturday, May 20, 2017, Andre Dirrell (35-3, 26 KOs) battled Jose Uzcátegui (26-1, 22 KOs) in a scheduled 12-round Super Middleweight fight for the interim IBF title.
Going into the fight, Uzcátegui was known as the feared power puncher, having flattened 22 of his 27 opponents inside the distance.
In Round 1, Uzcátegui came out stalking Dirrell as the Flint, Michigan looked to box and did a good job neutralizing the Venezuelan native.
Round 2 was a different story as Uzcátegui was able to close the distance and stun Dirrell against the ropes.
Andre Dirrell ran into trouble in the 2nd RD when Jose Uzcategui caught him with a series of shots.

WATCH NOW on @ShowtimeBoxing. pic.twitter.com/p8ZCHSbd6X

— PBC (@premierboxing) May 21, 2017
Uzcátegui ran out of time but was able to crack Dirrell with a power punch to the head as the bell sounded–a punch Dirrell complained was late (something we would see more of later on).
Round 3 saw Uzcátegui on the aggressive as he sensed Dirrell was still shaken up. Dirrell did land a good counter shot, which got Uzcátegui's attention, but the Dirrell support system–which included his brother Anthony and two-time gold medal Olympian Claressa Shields–were not pleased at all as they were shown on the big screen reacting to the action.
Dirrell did a good job controlling distance and the pace when he kept things in the middle of the ring, but Uzcátegui was able to have his way when things moved to the ropes.
Uzcátegui, who may have been affected by Dirrell's shots downstairs, took his foot off the gas in Round 5 as his output dipped and Dirrell was in more of his comfort zone.
Dirrell had the edge in Rounds 6 and 7 as he cracked Uzcátegui with hard straight lefts. The Venezuelan brawler looked to find a home for his power shots upstairs, but for the most part was unsuccessful.
Uzcátegui's corner begged their man to throw combinations, but he looked tentative walking in as he was eating leather each time.
The fight was an interesting clash of styles as the media section was buzzing with various opinions about who was up in the fight. But unfortunately, things took a drastic turn at the end of Round 8 when Uzcátegui landed a series of blows after the bell which caused Dirrell to hit the canvas face first.
Things went downhill from there as it appeared that Anthony Dirrell and another family member were involved in a brawl in the crowd along with numerous members of the Dirrell entourage. Uzcátegui was quickly disqualified, giving Dirrell the victory, and although Uzcátegui and Andre Dirrell embraced afterwards, Dirrell's uncle let his emotions get the best of him as went on an all-out attack against Uzcátegui.
Brawl Ensues after Boxing Cornerman Punches Opponenthttps://t.co/FcYaJguVbC #RussellEscandon pic.twitter.com/4XqWE5VCVI

— RoundByRoundBoxing (@RBRBoxing) May 21, 2017
The crowd was in a frenzy as people continued to squabble long after the decision was announced to disqualify Uzcátegui.
"I felt very good. I was hurting him the entire fight. I felt like I could hurt him anytime I wanted. Nothing he hit me with hurt me," said Uzcátegui after the fight.
Uzcátegui maintained that he did not purposefully hit Dirrell late.
"I was throwing a three-punch combination and I didn't hear the bell. I didn't mean to hit him. The third punch wasn't that hard of a punch. I was surprised he stayed down," said Uzcátegui.
After the bout, it was announced that the man who hit Uzcátegui, Dirrell's uncle, was named Leon Lawson and that Maryland State Police were looking to arrest him.
Super Middleweight José Uzcátegui drops @andredirrell after the bell. Uzcátegui get disqualified by the referee. pic.twitter.com/8nWVlb3aGw

— SHOWTIME Boxing (@ShowtimeBoxing) May 21, 2017